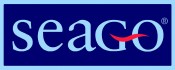 2 x Seago Classic 190 Automatic Lifejacket Red/Navy without Harness
MPN: C-RNA
FREE UK Mainland Delivery on orders over £125*
Note: Currently not available to order for delivery to EU Zone 1 or EU Zone 2 or EU Zone 3 or EU Zone 4 or Zone 5 or Channel Islands.
The Seago Classic Automatic Gas Inflating lifejacket is a firm favourite amongst our customers.
Economically priced and with190N buoyancy this really is a superb Lifejacket with rugged nylon outer cover, comfortable shoulder strap design, automatic gas inflation using 38 gram cylinder, oral inflation and deflation tube and lifting becket.
A crutch strap is supplied as standard on this lifejacket.
Save an additional £6.00 with our promotional offer when you purchase two of this automatic inflation version without harness.
Note: Harness & Non Harness versions shown
People who bought this also bought...