---
Plastic Inspection Hatch 143mm Overall
Molded polypropylene inspection hatch, with O ring seal and which when the lid is open is secured by a strap to prevent losing overboard. 102mm Internal 143mm Overall M4 fixing holes
Plastic Inspection Hatch 170mm Overall
Molded polypropylene inspection hatch, with O ring seal and which when the lid is open is secured by a strap to prevent losing overboard. 127mm Internal 170mm Overall M4 fixing holes

---
Plastic Inspection Hatch 200mm Overall
Molded polypropylene inspection hatch, with O ring seal and which when the lid is open is secured by a strap to prevent losing overboard. 152mm Internal 200mm Overall M4 fixing holes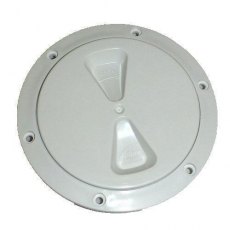 Plastic Inspection Hatch 268mm Overall
Molded polypropylene inspection hatch, with O ring seal and which when the lid is open is secured by a strap to prevent losing overboard. 203mm Internal 268mm Overall M4 fixing holes
---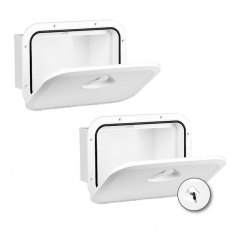 Top Line Storage Hatch
Top Line storage deck hatches are ideal for any sailboat, yacht, motor or fihsing boat. They are made of UV-resistant high-grade ASA plastic, in order to provide resistance to damage and chemical solvents. Designed for external use the hatches have a UV-resistant cover and frame, with a 180? opening door and a durable handle. They are specially designed with a non-skid surface and can be mounted...
Whale/Henderson Locker Door
Whale/Henderson Locker Door. Keep storage areas dry with these watertight robust designs, tried, tested and trusted for decades. Features and Benefits Provide Easy Access To Storage Space Reliable watertight seal LD4002 Clear - allows easy inspection without having to open the locker Maximum exterior pressure 0. 2 bar.
---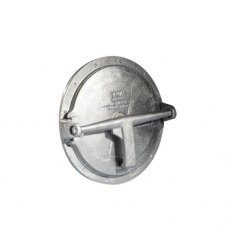 Whale/Henderson LD2000 Locker Door TCL2
Whale Locker Door Robust aluminium construction with locking lever ideal for harsh marine environments Diameter: 236mm (9 ¼'') Aperture: 179 mm (7'') Materials: Body: Diecast Aluminium Seal: Nitrile®