---
---
RYA G109 Sail & Power Logbook
The RYA Sail and Power Logbook combines the previous RYA Sail and Power logbooks into one incredibly useful volume that is ideal for all cruising boaters. This new logbook contains 90 logging pages and the bonus sections include: IALA buoyage; international code flags; plotting essentials (which incorporates dead reckoning and estimated position); and common abbreviations for nautical terms....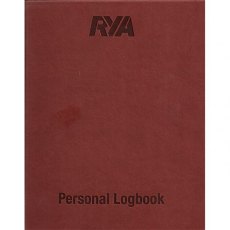 RYA G73 Personal Logbook
This personal logbook is perfect for all boaters who voyage on a number of boats. Within it, there is space to record the distance of journeys, the maximum wind strength and the capacity in which the voyage was sailed. Also included are 'season summaries' to allow at-a-glance mileage recording and vessel names. Ideal for the progressing boater, and unique to the RYA, this logbook includes...
---
Adlard Coles Logbook HB
This logbook is not only a convenient place to keep all the specific notes that need constant referral during a long voyage, but also a sailing record of the boat, ports visited, interesting sights, and people invited aboard. This revised edition includes new material relating to the advent of GMDSS. Hardback 144 Pages
Logbook for Cruising Under Sail PB
Author: John Mellor Format: Paperback, 96 Pages A modern sailor's logbook, fun to use and designed to last for a whole season. Allows space for electronic navigation information and for narrative. Also doubles as a visitor's book.