---
Digital Yacht AIT1500 Class B AIS Transponder
An easy to install Class B AIS with built in GPS antenna and universal NMEA 0183 interface The AIT1500 incorporates a high sensitivity GPS antenna within its compact case which saves on antenna clutter and makes for a speedy installation. Ideal for fitting on smaller vessels and tenders, it uses a NMEA0183 interface for simple connection to the vast majority of AIS compatible chart plotters and also...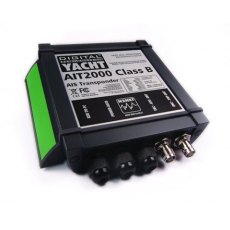 Digital Yacht AIT2000 Class B AIS Transponder
The AIT2000 uses the latest AIS Transponder technology to squeeze more performance and interfacing options in to a housing that is half the size of our previous generation transponder. This ultra-compact Class B Transponder has three outputs; NMEA 0183, NMEA 2000 and USB connection, allowing it to work with every AIS compatible chart plotter or software package on the market today. Featuring a remote...