---
Cobra Electronics MR-F77EU Fixed DSC VHF Radio with GPS
Cobra MR-F77 marine VHF radio with built in GPS receiver, simply connect the 12V (red and black) wires and enter their MMSI for full setup and immediate operation SPECIFICATIONS: DSC (DIGITAL SELECTIVE CALLING): Compliant with the latest specifications for Class-D VHF Radios. Digital Selective Calling allows you to send a distress signal at the touch of a button or exchange position information with...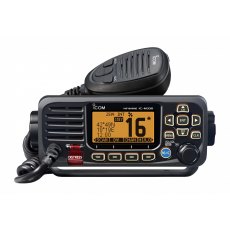 Icom IC-M330GE Fixed DSC Marine VHF
This small space saving VHF radio can now fit in those tight spaces where a traditional full sized radio cannot, it may be small in size but is certainly not lacking in features. Ultra Compact Body: Flexible Installation, the compact IC-M330GE is suitable for a cockpit where space is limited. Intuitive User Interface: A combination of the directional keypad and soft keys provides simple, smooth operation....