---
Flojet Self-priming diaphragm pump 230 volt a.c.
230volt, Flojet Quad 4000 series self priming diaphram pump suitable for marine, domestic and industrial applications. Connections: - 15mm (1/2") Hose Dimensions: - 230mm long, 101mm wide, 95mm high Fuse Size: - 3(amp) Output: - up to 12 litres/minute (2.7 gallons/minute). Maximum recommended total head 40m Continuous duty Quad' diaphragm design allows extended dry running Self-primes up to 2.4m vertical...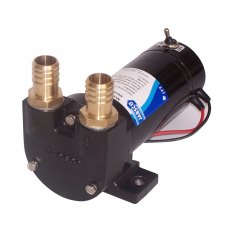 Jabsco VR050 Sliding Vane Diesel Transfer Pump
Self-priming diesel transfer pump up to 50 litres/minute with switch/fuseholder & 1" hose adapters Connections: - 1" Hose Dimensions: - 215 mm long, 130mm wide, 65mm high Fuse Size: - 20(amp) Output: – up to 52 litres/minute (11 gallons/minute) at 3m head. Max recommended total head 10m Heavy duty, continuously rated diesel fuel transfer pump Robust cast iron body, bronze sliding...