Lalizas
---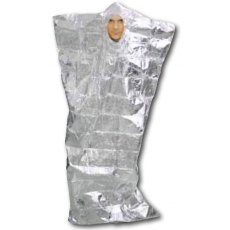 Thermal Protective Aid
Thermal Protective Aid Designed with aluminised polythene to provide maximal protection to a temperature of minus 30?.Universal size. Dimensions : 2.4m x 1m. Weight: 160 gr.
Lalizas Navigation 12M Cyclic Masthead White Black Housing Lighting
Lalizas 'Cyclic' navigation light, suitable for boats up to 12m per COL RED 72 and NFJ 6-102. This is a side-mount navigation light in a black housing, as fitted by various OEM manufacturers including Quicksilver, Jeanneau, Beneteau boats etc.. Installation is simple: just fix the baseplate, connect up to your boat's 12v system and put the cover back on the light. The lights include a 12v 10W...
---
Lalizas 20m Maxi Series Navigation Light - Port
The Classic Maxi series of navigation lights is designed and type-approved for vessels under 20 meters. Manufactured from a special compound of ABS and polycarbonate with shatterproof acrylic lens, non-magnetic stainless steel electrical contacts and a nitrile water resistant seal to provide reliable long life. All colored lens lamps are supplied with a 12V 25W bulb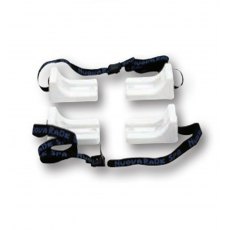 Liferaft Deck Chocks
Liferaft Deck Chocks Set 4 Plastic deck chocks often used for liferaft or fuel tank anchoring. Supplied with fully adjustable webbing straps. Length 670mm - 750mm Max. Width 395mm. Thickness 200mm.
---
Lalizas 3 Step Stainless Steel Ladder
Stainless Steel Ladder Made from 25mm marine grade stainless steel tubing, with black non-slip polypropylene steps. These ladders come complete with two stand-off feet to suit the contours of most hulls and one pair of keyhole plates with backing pads. Hooks fold flat for out-of-the way storage. Dimensions Height: 83cm Overall Width: 35cm Please note: Stand-off feet are not adjustable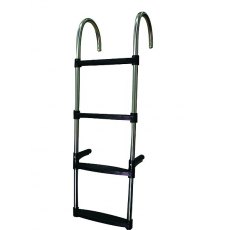 Lalizas 4 Step Stainless Steel Ladder
Stainless Steel Ladder Made from 25mm marine grade stainless steel tubing, with black non-slip polypropylene steps. These ladders come complete with two stand-off feet to suit the contours of most hulls and one pair of keyhole plates with backing pads. Hooks fold flat for out-of-the way storage. Dimensions: Height: 113cm Overall Width: 35cm Please note: Stand-off feet are not adjustable
---
Lalizas 5 Step Stainless Steel Ladder
Stainless Steel Ladder Made from 25mm marine grade stainless steel tubing, with black non-slip polypropylene steps. These ladders come complete with two stand-off feet to suit the contours of most hulls and one pair of keyhole plates with backing pads. Hooks fold flat for out-of-the way storage. Dimensions: Height: 136cm Overall Width: 35cm Please note: Stand-off feet are not adjustable
Lalizas Categories