---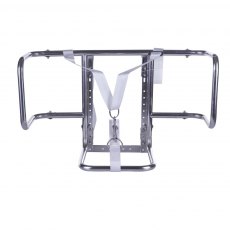 Universal Stainless Steel Liferaft Cradle
A fully adjustable premium liferaft cradle manufactured in 316 stainless steel, which is designed to fit most makes and model of canister liferaft from 4 to 12 persons. Mount the cradle in either vertical or horizontal position on the pushpit, coach roof or transom and the liferaft is held in place with a webbing strap which retains the liferaft securely and allows quick release. If using an optional...
Plastimo Deck Mount Liferaft Cradle
Stainless steel cradle to be mounted horizontally on deck. Tube diameter : 22 mm. 316 L st. steel Ex Demo Model - 1 only complete but with tatty box
---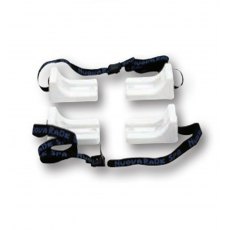 Liferaft Deck Chocks
Liferaft Deck Chocks Set 4 Plastic deck chocks often used for liferaft or fuel tank anchoring. Supplied with fully adjustable webbing straps. Length 670mm - 750mm Max. Width 395mm. Thickness 200mm.
Seago Liferaft Deck Cradle Lashing Straps
Cradle Webbing Strap for Adjustable Leisure Liferaft Cradle. This innovative webbing kit is fully adjustable and gives a quick release solution. At the same time, it provides the basis for hydrostatic release integration with the standard universal cradle.
---
Hammar Hydrostatic Release System
Hammar Hydrostatic Release System Two versions are available, the Green Hydrostatic release is designed for liferafts from 4 up to 12 persons and outside SOLAS regulations, the Yellow Hydrostatic release unit is designed for liferafts from 6 up to 150 persons. The white rope of Hammar H20 is secured to the deck or liferaft cradle and attached to the liferaft lashing with a sliphook. The water pressure...