---
Hammar Hydrostatic Release System
Hammar Hydrostatic Release System Two versions are available, the Green Hydrostatic release is designed for liferafts from 4 up to 12 persons and outside SOLAS regulations, the Yellow Hydrostatic release unit is designed for liferafts from 6 up to 150 persons. The white rope of Hammar H20 is secured to the deck or liferaft cradle and attached to the liferaft lashing with a sliphook. The water pressure...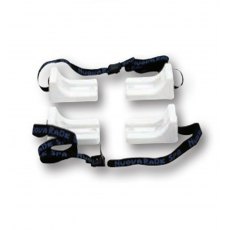 Liferaft Deck Chocks
Liferaft Deck Chocks Set 4 Plastic deck chocks often used for liferaft or fuel tank anchoring. Supplied with fully adjustable webbing straps. Length 670mm - 750mm Max. Width 395mm. Thickness 200mm.
---
Seago Liferaft Deck Cradle Lashing Straps
Cradle Webbing Strap for Adjustable Leisure Liferaft Cradle. This innovative webbing kit is fully adjustable and gives a quick release solution. At the same time, it provides the basis for hydrostatic release integration with the standard universal cradle.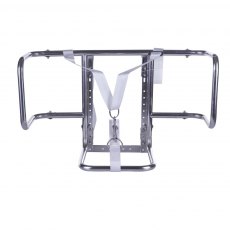 Universal Stainless Steel Liferaft Cradle
A premium liferaft cradle manufactured in 316 stainless steel, which is fully adjustable and designed to fit most makes of canister liferaft from 4 to 12 persons. The cradle can be mounted either vertically or horizontally on the pushpit, coach roof or transom and the raft is held in place with a strap which retains the liferaft securely and allows quick release. Fixing bracket supplied as standard...