---
Blue Polypropylene Rope 8mm x 30mtr Coil
Blue Polypropylene Rope is ideal for a number of fastening applications, and is particularly popular for in marine environments, thanks to its weather resistant properties. It is an affordable and reliable solution for both the commercial and industrial sector, and is often used in a variety of ways, from securing tarpaulins to forming event barriers. 8mm dia. 30mtr Coil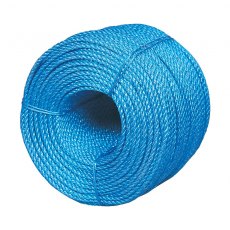 220mtr Blue Polypropylene Rope Coil
220mtr Blue Polypropylene Rope Coil Blue polypropylene rope often reffered to as SFR is a 3 strand twisted construction, ideal for a number of fastening applications, and is particularly popular in marine environments thanks to its weather resistant properties. It is an affordable and reliable solution for both the commercial and industrial sector, and is often used in a variety of ways, from securing...
---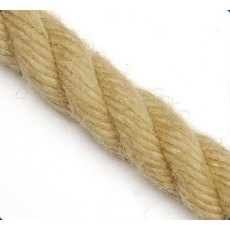 24mm dia. Synthetic Hemp Rope for Gardens & Decking
3 strand synthetic hemp is a low stretch natural looking polyprop rope made for traditional boats and as an alternative to natural fibre ropes for decorative purposes. Synthetic hemp is also good for internal and external decorative barriers, decking and garden ornamental use. We can supply this rope in other sizes. Suggested Useages Rigging on classic boats Mooring lines Garden / Decking ropes 24mm...
Set of 2 Galvanised Red Head Tested Pulley Blocks
Pair of load rated 1T galvanised blocks with safety catch on hook, suitable for 16mm di rope 3" dia sheeve Hook with safety catch 1T load rating 1 x double with becket/1 x Triple with becket Greaser nipple on both for lubricating sheeve