Bravo
---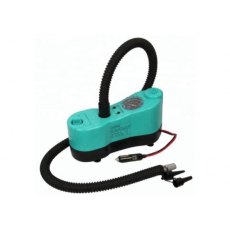 Bravo BTP 12 (analogue) High Pressure Pump
Bravo BTP12 electric inflator - easy to use - reliable and powerful. Maximum pressure of 1 bar (14.5 psi), which is enough to inflate all types of dinghies and kites on the market today. Pressure selection facilitated with this special manometer.Reading scale in bar and psi. Voltage 12 V DC Max pressure 1 bar/14,5 psi Turbine flow rate 450 l/min Piston flow rate 160 l/min Consumption 20 A max Automatic...

Bravo 4 Red Stirrup Pump
A double action stirrup type pump for inflating and deflating, a pump which will take the backache out of inflating dinghies, kayaks and fenders. All plastic body construction with with aluminium handle, non kink hose and universal valve adaptors. Will inflate a 2.4mtr tender in approx 5mins. Volume: 2 x 2000cc Inflates Deflates Non-kink hose Body manufactured in ABS Pressure cap adjusts for downward-only...
---
Bravo 7 Foot Pump
Bravo 7 Foot Pump- A quality 5 litre foot pump ideal for inflatable boats, canoes & beds.• Max 5.8psi• Supplied with universal adaptors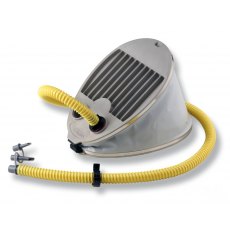 Bravo 8 Foot Pump
A 6.5 litre foot pump. Useful to have around with a multitude of uses. Suitable for small beach boats, air beds etc. Reinforced fabric coated bellows & all stainless steel metal parts. Supplied with crush resistant hose and universal adaptor
---
Bravo 10 Double Chamber Foot Pump
The Bravo 10 is a proffesional double chamber bellows foot pump with addition of a pressure indicator. The user can pump at high volume, low pressure then switch to low volume, high pressure by removing a small plug. Suitable for all inflatable boats, SUP's and kayaks Inflate and deflate Long flexible hose with connectors for the most common valve systems