---
Seago Tender Inflatable Boat Cover
The Seago tender cover provides invaluable extra protection for your inflatable tender. Lined with a UV protective layer these semi-tailored covers with tight elastic trim and polyester strapping which snuggly fit to your tender. To properly care for your inflatable this is a must have accessory as UV rays and heat are the biggest contributors to shortening the lifecycle of your tender. Suitable...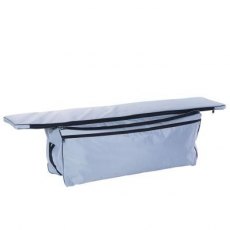 Seago Detachable Dinghy Seat Bag and Padded Seat
Seago Inflatable Boat Seat Bag and Padded Seat Cover - Currently one only Soiled To Clear The perfect accessory for your tender, adding comfort and storage. The padded seat cover is adjustable and fits all Seago inflatable boats and will also fit a large range of other brands too. The storage bag attaches with a strong zip and the water resistant storage area has a large opening. When you disembark...