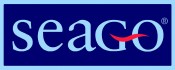 Seago Detachable Dinghy Seat Bag and Padded Seat
Item: 19-4040
FREE UK Mainland Delivery on orders over £125*
Seago Inflatable Boat Seat Bag and Padded Seat Cover
The perfect accessory for your tender, adding comfort and storage. The padded seat cover is adjustable and fits all Seago inflatable boats and will also fit a large range of other brands too. The storage bag attaches with a strong zip and the water resistant storage area has a large opening. When you disembark from your tender you can also take this section of the seat with you using the carry strap.
Water resistant
Adjustable to all Seago inflatable boats
Large storage area
Detachable bag
Carry straps
The Storage Bag will fit a seat:
70cm long - minimum up to around 90cm
20cm wide - maximum
3.5cm thick - maximum
Seat pad size: 81cm x 20cm x 2.2cm
Bag width: 50cm
People who bought this also bought...