---
Kannad Marine 50Ltr Duffle Bag
This duffle bag is ideal for day trips at sea or on land and its generous 50 litre capacity provides plenty of space for storing safety gear and everyday essentials. Key Features: 35 x 60cm 50 Litre capacity Splashproof tarpaulin PVC High visibility yellow Provides storage for everyday essentials and safety equipment
Kannad FastFind CREW1 AIS Man Overboard (MOB) Beacon
Key Features Highly accurate, regularly updated GPS coordinates Water and manual activation options Compatible with AIS electronics, e.g. chart plotters High strength LED signals SOS message to aid low light detection High powered battery allows extended signal operation with 36 hrs activation time 5 years storage life IP68 Waterproof with 50 meter immersion depth
---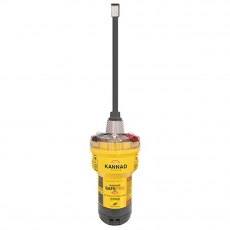 Kannad Safepro AIS Manual
The SafePro AIS EPIRB distress beacon from Kannad provides fast detection, high positioning accuracy and fast rescue of people or vessels in distress. Features SafePro AIS with GNSS receiver and MEOSAR compatible: GNSS receiver (GPS, Galileo **, GLONASS) MOB AIS MEOSAR compatible 48h minimum operating time Self-test button 10 year battery Mounting options - Manual or Automatic...
Kannad Marine Double Strap 40Ltr PVC Grab Bag
A splashproof double strap grab bag from Kannad Marine, with a generous 40 litre storage capacity suited to carrying a basic survival kit such as an EPIRB or PLB, water, high energy food, phone, keys and additional safety equipment such as flares, a knife, VHF radio, medication etc. Key Features: 35 x 18 x 68cm 40 Litre capacity Splashproof tarpaulin PVC High visibility yellow Provides...
---
Kannad Marine Single Strap 3Ltr Grab Bag
A splashproof, one strap grab bag from Kannad Marine ideal for carrying basic survival kit such as an EPIRB or PLB and other essential items such as water, high energy food, phone and keys. Key Features: 28 x 15.5 x 8cm 3 Litre capacity Splashproof tarpaulin PVC High visibility yellow Single strap Can carry basic survival kit such as a EPIRB or PLB