---
TruDesign Load Bearing Collar
These are designed for use with TruDesign Skin Fittings and Ball Valves. The Collar enables compliance to ABYC H-27 standard for the entire assembly. Features: Provides strength and protects vulnerable areas Retrofit to existing assemblies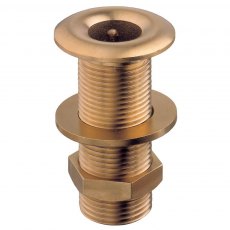 Guidi Brass Skin Fitting
Brass Skin Fitting With BSP Male Thread Suitable for engine, toilet and other onboard water intakes, this skin fitting is our most popular. A strong robust brass skin fitting fitted with internal securing lugs and BSP parallel thread. Supplied with large washer and hexagon nut. We supply sizes 1/2" BSP - 2"BSP See PDF for dimensions
---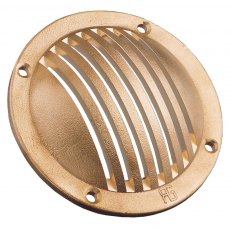 Guidi Brass Slotted Round Grating
Brass Full Slotted Round Grating Shell moulded brass slotted grating to be used with brass skin fittings to provide protection and prevent unwanted debris entering and blocking the water system. 4mm approx slot Fixings: 4 c/sk 80mm dia: 1/2" and 3/4" skin fittings 100mm dia: 1" and 1-1/4" skin fittings 120mm dia: 1-1/2" and 2" skin fittings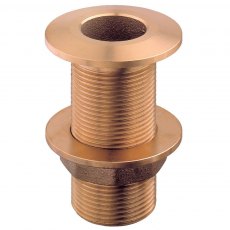 Guidi Bronze Skin Fitting BSP
Bronze Skin Fitting With BSP Male Thread Guidi manufacture a range of bronze skin fittings that can either be used on their own or with a bronze scoop into which they fit perfectly (sold seperately). Suitable for engine, toilet and other onboard water intakes, this skin fitting is our most durable and designed to withstand years of use in harsh marine conditions. A strong robust bronze skin...
---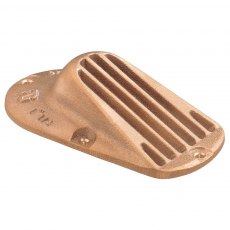 Guidi Bronze Skin Fitting Scoop
A removable bronze scoop which is designed to fit with the bronze skin fittings increasing water flow and preventing unwanted debris entering the water intake. Optional use with Guidi bronze skin fitting 4 screw fixings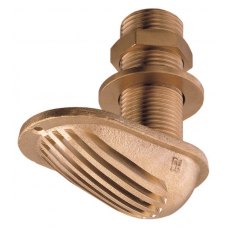 Guidi Brass Grated Water Intake Scoop
Brass Grated Water Intake Scoop Guidi brass water inlet with integral scoop and slotted strainer. Install with scoop facing forward as this scoop is designed to increase water flow whilst the grating prevents unwanted debris entering the water intake. A strong robust skin fitting shell moulded in brass and BSP parallel thread. Supplied with large washer and hexagon nut. We supply sizes...
---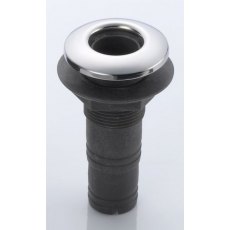 Plastic Skin Fitting with Stainless Steel Cap Straight Hose
Straight Skin Fittings moulded in fibre reinforced acetal with beautifully polished stainless steel cap that is ultrasonically welded onto the flange. Light weight and highly corrosion resistant. Threaded with back nut for securing Attractive stainless steel cap
---
90° Plastic Skin Fitting with Stainless Steel Cap Hose
90º Skin Fittings moulded in fibre reinforced acetal with beautifully polished stainless steel cap that is ultrasonically welded onto the flange. Light weight and highly corrosion resistant. Threaded with back nut for securing Attractive stainless steel cap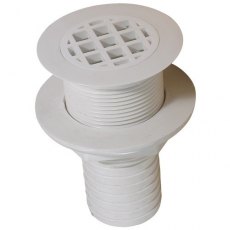 Cockpit Drain for 1 1/2' Hose
Cockpit Drain A white nylon cockpit drain with grating and countersunk head supplied with flange nut, for flush fitting up to 40mm deck. 1-1/4" & 1-1/2" ID hose Top O/A dia. 68mm Overall Length 130mm Thread diameter 40mm