---
Stainless Steel Round Hand Basin / Sink 340mm ID
Stainless Steel round bowl sink suitable for boats, caravans, motor homes and catering units. Attractive polished stainless supplied with plug, chain and waste outlet Size: ID 340mm dia. x Depth 155mm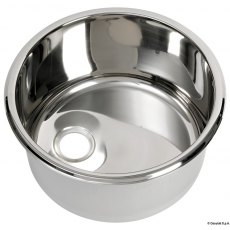 Stainless Steel Round Sink 285mm dia.
Stainless steel round sink which makes a very attractive addition to any galley on a boat but also suitable for caravans, motor homes and catering units . Mirror polished stainless steel To install: Cut the required apperture and bed down using a suitable sealant Size: O/A 295mm dia. x Depth 180mm (ID 260mm dia) Waste sold separately
---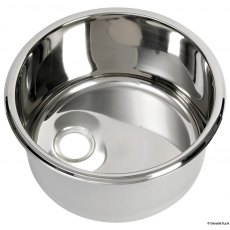 Stainless Steel Round Sink 330mm dia.
Stainless steel round sink which makes a very attractive addition to any galley on a boat but also suitable for caravans, motor homes and catering units . Mirror polished stainless steel To install: Cut the required apperture and bed down using a suitable sealant Size: O/A 330mm dia. x Depth 180mm (ID 300mm dia) Waste sold separately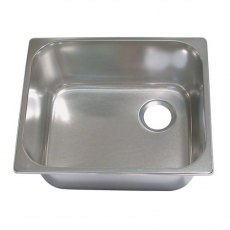 S/S Rectangular Sink 320 x 170 x 150mm
Stainless steel rectangular sink which makes a very attractive addition to any galley on a boat but also suitable for caravans, motor homes and catering units . Satin finish stainless steel To install: Cut the required apperture and bed down using a suitable sealant Size: O/A L320mm x W170mm x Depth 150mm Cut Out Size: L300mm x W150mm Waste sold separately
---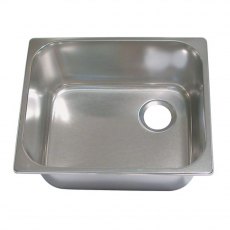 S/S Rectangular Sink 320 x 260 x 150mm
Stainless steel rectangular sink which makes a very attractive addition to any galley on a boat but also suitable for caravans, motor homes and catering units . Satin finish stainless steel Bed down and fix using a suitable waterproof sealant Size: O/A L320mm x W260mm x Depth 150mm Cut Out Size: L298mm x W238mm Waste sold separately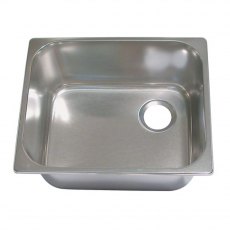 S/S Rectangular Sink 350 x 320 x 150mm
Stainless steel rectangular sink which makes a very attractive addition to any galley on a boat but also suitable for caravans, motor homes and catering units . Satin finish stainless steel Bed down and fix using a suitable waterproof sealant Size: O/A L350mm x W320mm x Depth 150mm Cut Out Size: L328mm x W320mm Waste sold separately
---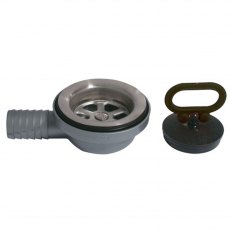 1' Sink Waste & Plug
Plastic body with S/S flange and 90º outlet suitable for our range of stainless steel sinks. Aperture: 50mm Depth: 35mm Hose: 25mm