---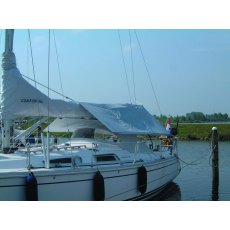 Blue Performance Standard Sun Awning
Blue Performance Standard Sun Awning Available in 3 sizes this sun awning is highly durable and stylish made from water repellant materials and ideal for keeping the sun out of the cockpit or off the deck whilst you are enjoying a cold beer or glass of wine at anchor! Colour: Light grey Material: Ripstop/Nylon Small: 3000 x 2600mm (9.8 x 8.5ft) Medium: 3300 x 2850mm (10.8 x 9.4ft) Large:...
Midi Holdon Fabric Clip Pack (4) White
Midi Holdon Fabric Clip A patented highly effective and efficient 'instant' clip-on eyelets/fixing clips for securing all types of textiles, fabrics, substrates, polythene and other sheet products for hemmed or non hemmed fabric. Holdon offer users a simple, fast and effective means of creating fixing points without the need for tools or special skills. Based on the unbeatable 'wedge' principle hence,...
---