---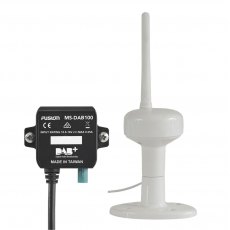 Fusion DAB100A DAB+ Module with Powered Antenna
The MS-DAB100A includes the accessory module and an IPx7 waterproof powered antenna. Simply connect to a supported stereo and enjoy the newly created DAB source with FUSION's superior sound quality. Digital radio doesn't suffer from the annoying effects of interference caused by adverse atmospheric conditions or electrical interference, which can spoil analogue broadcasts. The way digital radio is...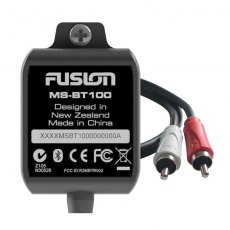 Fusion Marine Bluetooth Module (MS-BT100)
Introducing the FUSION MS-BT100 marine grade Bluetooth audio module. Certified IP65 water resistant and tested for the marine environment, the MS-BT100 will connect to any FUSION Marine stereo featuring an Auxiliary input allowing for instant streaming from a compatible device. What separates the MS-BT100 apart from other Bluetooth modules is the integrated marine voltage protection, which is engineered...
---
Fusion Marine Dock for iPod DOCKG2
Connect the Marine Dock for iPod to the MS-AV600 or MS-CD600 to provide full control and integration of your iPod through the stereo. When bulkhead mounted the Dock complies with IPx5 waterproof standards (Protecting your iPod on the water is essential). The Dock can also be wall-mounted if required.
Fusion MS-CV600W White Marine Stereo Dust Cover IP500
The Marine Stereo Dust Cover protects your 500 or 600 Series FUSION marine stereo. Compatible with the following FUSION Marine products: Marine CD Stereo (MS-CD500) Marine Stereo for iPod (MS-IP500) Marine CD Stereo (MS-CD600) Marine DVD Stereo (MS-AV600) Marine Stereo for iPod (MS-IP600)