---
Aluminium Rudder & Trim Tab Disc Anodes
Technoseal Rudder & Trim Tab Anodes Perfect for attaching to rudders and trim tabs, these anodes are supplied as a pair with fixing bolt. Being aluminium these anodes are lightweight and suitable for both fresh and salt water use. R1AL: Dia. 47mm x H7mm x Bolt 6.5mm R2AL: Dia. 72mm x H11mm x Bolt 7mm R3AL: Dia. 92mm x H13mm x Bolt 8.5mm R4AL: Dia. 127mm x H13mm x Bolt 9mm Sold...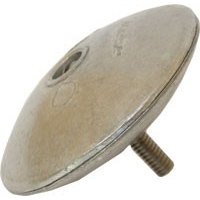 MG Duff ZD52 Zinc Anode
MG Duff ZD52 Zinc Disc Anode Suitable for protecting trim tabs and rudders Supplied as a pair with bolt. 50 mm diameter 15 mm high For saltwater use.
---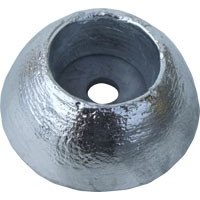 Tecnoseal 1kg 100mm Zinc Disc Anode
Technoseal zinc saltwater button disc anode, 100mm (4') with a 14.5mm dia centre fixing hole. Newer design with straight sides but still same weight Weight: 1.0kg Overall Diameter: 100mm Height: 32mm Overall Hole Cut Out: 42mm Bolt Hole Size: 14.5mm

---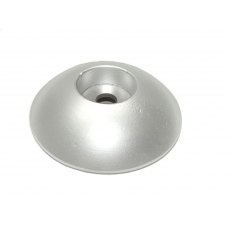 Tecnoseal 2.1kg 140mm Zinc Disc Anode
A saltwater 140mm Zinc disc anode with a 14mm dia centre fixing hole. A popular anode used for various applications on the Hull,Trim Tabs & Rudder Weight: 2.2kg Overall Diameter: 140mm Height: 36mm Overall Hole Cut Out: 36mm Bolt Hole Size: 14.5mm
Tecnoseal 70mm Zinc Disc Anode
Tecnoseal Zinc disc anode for use on rudders and trim tabs. For salt water use. 70mm diameter, 13mm height, 0.19kg weight 8.5mm hole size
---
Tecnoseal 90mm Zinc Disc Anode
Tecnoseal 90mm zinc disc anode for use on rudders and trim tabs. For salt water use. 90mm diameter 17mm height 0.42kg weight 8.5mm hole size
Tecnoseal 110mm Zinc Disc Anode
Tecnoseal Zinc disc anode for use on rudders and trim tabs. For salt water use. 110mm diameter 18mm height, 0.68kg weight 10.5mm hole size