---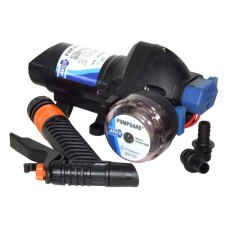 ---
Jabsco Par Max 5 Heavy Duty Washdown Pump Set 12v (50PSI)
Jabsco Par Max 5 Par-max 5' heavy duty pressure controlled Washdown diaphragm pump 12 volt d.c., supplied with inlet strainer & trigger nozzle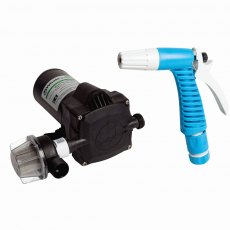 Whale WD1815 12V Washdown Pump and Trigger Kit
The Whale Saltwater Washdown Kit includes a high capacity pressure pump and adjustable trigger handset. The universal mounting arrangements suit any installation using Whale Quick Connect fittings and hose. The quiet pump runs dry without damage and with a strainer included this pump is suitable for pumping saltwater or freshwater. The trigger handset provides a high pressure, target flow and has...
---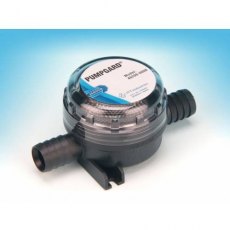 Jabsco Pumpgard Inline Strainer
Jabsco Pumpgard Inline Strainer Stainless screen. Transparent inspection cover. Easily installed in line. Protects pump from debris Dimensions: 120mm long, 70mm wide, 60mm high Prevents unnecessary pump breakdowns caused by particles in the water. Transparent housing allows instant inspection. Screw off top allows quick in-place cleaning and removal of debris. 40 mesh stainless steel filter screen Packaged...