---
---
Raymarine Raynet To Raynet 5mtr Cable (A80005)
5mtr RayNet to RayNet Cable (A80005) The new RayNet (F) to RayNet (F) network cable can be used to daisy-chain 2 adjacent RayNet devices together. It is also useful for joining two adjacent HS-5 Network Switches together on larger systems where multiple switches are necessary.
---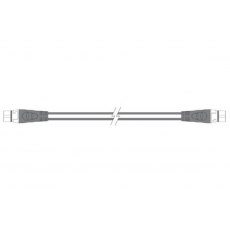 ---
Raymarine SeaTalk NG Backbone Terminator (A06031)
Raymarine SeaTalk NG Terminator In order to ensure correct data transmission through a SeaTalk NG system- a dedicated Terminator is required at each end of the backbone cable run. Don Not attempt to run a system that is not correctly terminated. Do not use SeaTalk Terminators on Spurs- use a Blanking Plug to terminate each unused spur connector on 5-Way connectors and T-Pieces.
---