Flag
FLAG Paints offer a range of high quality antifouling, marine paints and finishes. Flag Cruising is a soft self eroding antifoul suitable for slower vessels in low fouling areas while Performance Extra Antifouling is better suited to both sail and power boats in areas of higher fouling and where tides run faster. Other products in the Flag range include underwater primer and thinners for the Antifouling Paints, high opacity bilge paint, varnish and a rust converter which will seal rusted metal and keels in preparation for overcoating with epoxy primer. Independent tests by PBO suggest Flag Antifoul outperforms other more expensive brands.
---
Flag Paints Cruising Antifouling - 2.5Ltrs **Steel White 1 Only**
Flag Cruising Antifouling is an economical (cruising grade) self eroding copper based antifouling paint which is self polishing and free from booster biocides. This product is self-priming when topping up existing (similar copper based) antifoulings, in other words it will overcoat existing compatible antifouling without the need for a separate primer coat. However if you are unsure of the compatibility...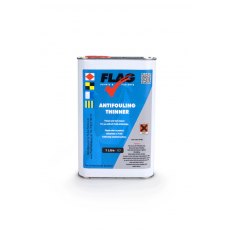 Flag Antifouling Thinners - 1 Litre
Thinners for use with FLAG Antifoulings and FLAG Marine Primers. Use for cleaning brushes and equipment also. Can Size:1Ltr Manufactured in the UK by FLAG Paints Ltd.
Flag Categories