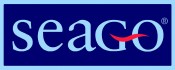 Seago Active Pro Lifejacket Auto/Harness Fitted Sprayhood & Light
Item: 1-1130
FREE UK Delivery on orders over £100*
Note: Currently not available to order for delivery to EU Zone 1 or EU Zone 2 or EU Zone 3 or EU Zone 4 or Zone 5 or Channel Islands.
The Active Pro takes Seago lifejacket design to a higher level with a fitted spray hood and lifejacket light. The Pro Sensor firing head ensures that the user can see at a glance that the gas cylinder and automatic firing head are active and have not been tampered with. The green indicator line will show when the lifejacket is safe to use, if the indicator is red it will mean a replacement cylinder or firing head is needed.
The lifejackets feature a new higher 190N buoyancy volume, cylinder safe valve, easy fit & release buckles and "S" design bladder ensure water is channelled away from face.
High volume buoyancy together with unique safety features make this jacket the first choice for those with safety and convenience in mind.
The introduction of Cylinder Safe and S Design lung features demonstrate Seago's ongoing investment in safety innovation.
The 3D contour design reduces the surface area in contact with your body making the lifejacket almost unnoticeable for both men and women.
Zipped outer cover

3 colours available
Uses 38gm cylinder
Double Crutch Strap
Pre-fitted light & sprayhood
Pro sensor auto firing head
Intergrated Harness
You may also like...
People who bought this also bought...