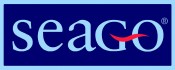 Seago Sea Cruiser ISO 9650-2 Liferaft 6 Person Valise
Item: 1-9003
MPN: LR6V
FREE UK Mainland Delivery on orders over £125*
Note: Currently not available to order for delivery to EU Zone 1 or EU Zone 2 or EU Zone 3 or EU Zone 4 or Zone 5 or Channel Islands.
The Seago Sea Cruiser 6 Person ISO 9650-2 liferaft replaces the previous Seago GX Offshore Liferaft and allows you to have an ISO 9650-2 conforming liferaft with the most competitive service costs in the leisure industry.

A high specification and competitively priced liferaft designed for the UK and European leisure user is packed with many of the features normally associated with Liferafts of traditionally higher specification.
Seago traditionally provide the highest quality equipment possible at the best price. You no longer have to buy a leisure liferaft that does not conform to a recognised industry standard because of your budget or concern for service costs.
Specification:
Materials -

Super robust large Butyl rubber inflatable tubes

100% Water proof tough RipStop Nylon canopy

L700 x W400 x H270
Weight Packed 32kg
Retro reflective tape - Fitted with high visibility SOLAS approved retro reflective tape on canopy and underside of raft floor
Ballast Pockets - 4 x 55 Litre lead weighted quick filling water ballast pockets for maximum stability
Lights - Automatic high visibility SOLAS flashing external light to enable quick recovery. Internal light
Areas of Use -

Coastal, offshore sailing and fishing

Service & Warranty - 3 Year service interval, 18 year warranty
Emergency Pack:
1 x Bailer, 1 x Drogue (sea anchor), 1 x Floating knife, 1 x Hand pump, 1 x Life saving signal card, 1 x Pair of oars, 1 x Repair kit, 1 x Rescue quoit with 30m of line, 1 x Signal mirror, 1 x Waterproof torch & batteries, 1 x Wet notes, 1 x Whistle, 2 x Parachute rockets, 2 x Sponges, 3 x Red hand flares, 6 x Anti sea sickness tablets (MHRA Approved WDA license number: 43548)
Delivery to UK mainland only (Please call for a quote if an overseas delivery is required)
People who bought this also bought...