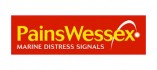 Pains Wessex Day & Night Flare MK8
Item: 1-6007
FREE UK Mainland Delivery on orders over £125*
Note: Currently not available to order for delivery to EU Zone 1 or EU Zone 2 or EU Zone 3 or EU Zone 4 or Zone 5 or Channel Islands.
Description: Compact, hand held distress signal consisting of a red flare at one end and an orange smoke at the other. Housed in a rugged, corrosion & water resistant case Application: This flare is suitable for Day or Night use - only when rescue services are sighted. Select the end to use - Smoke by day and Flare by night. Product
Specification: Length: 190mm (7.48 ins)
Diameter: 30mm (1.18 ins) Weight: 170g (6oz)
Net Explosive Content: 45g (1.58oz) Ignition: pull-wire ignitor Flare burning time: 20 seconds Light intensity: 15,000cd
Colour of light: Red Smoke
Duration: 18 seconds Colour: Orange
Delivery to UK mainland only
Exp Dec 2022
You may also like...
People who bought this also bought...